Your own photograph transformed into a hand-painted work of art
Commission an original painting, based on your own photo, to be hand-painted by a professionally trained artist. If you have a photograph that is special to you why not have it transformed into a unique hand-painted work of art. You can have your landscape, portrait or animal photographs turned into beautiful paintings preserving your memories for a lifetime.
Sample paintings from photos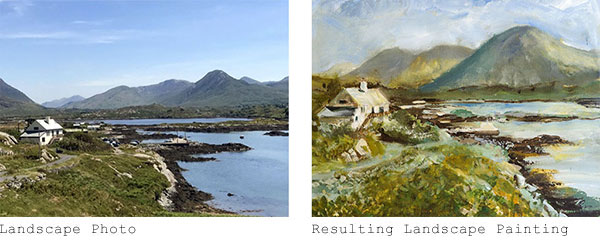 About the Artist
Dympna Heanue is a professionally trained fine art painter based in Connemara, Co. Galway in the West of Ireland. She works in acrylic paint on canvas to create custom hand-painted art from your photos. She does not reproduce direct copies but rather creates original paintings in her own individual style. Every painting is 100% hand-painted and can be ordered in a range of sizes and styles. Have a look at Dympna's portfolio to see some previous work.